I've never been a fan of watching videos on small screens. I can't honestly see the point. Why would anyone want to watch a full length film on the iPod's tiny screen?
It may be "cool", but it's hardly practical or good for your eyes



I'm probably not the only person to think along these lines, as MyVu Corporation seem to have based their entire business around resolving this one problem – and the solution looks pretty cool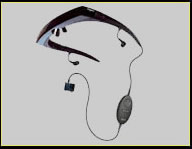 The system is pretty self-explanatory and consists of "glasses" and builtin earphones.
I've no idea how good the quality is, but they're available online from $200 a pop!