If, like me, you have a recycling bin, you probably find that it gets full awfully fast. Well, maybe it doesn't get full that fast, but it always gets full a few days before it is collected.
One of the problems, of course, is that cans and other items are probably taking up more space than needed.
Enter the can crusher.
There are a variety of models available on the market varying from the chic through to the downright practical.
If you have the right space for one a wall mounted unit is probably the best solution, though you need to make sure that it's not mounted above carpet, as you will always end up with leftover liquid in cans you are crushing.
This particular unit caught my eye: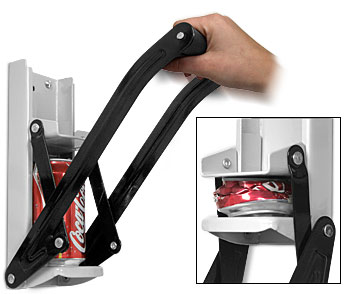 At the moment I'm using a handheld unit which you stand on to crush cans, but that's simply because I live in rented accommodation!
More details are available here