Ipods are cool gadgets and you can get some really nice accessories to go with them, but who would have imagined that someone would come up with an iPod vibrator?
I know I hadn't!
The OhMiBod range of iPod accessories is obviously aimed at cashing in on the design appeal of the iPod: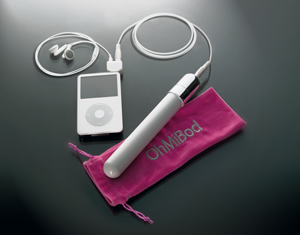 Of course they wouldn't be much good as iPod accessories if they weren't available in a variety of colours, so the makers offer them in several: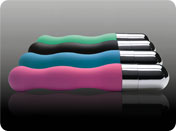 Pretty cool, though obviously I can't make much use of them!
It's also quite versatile:
Two Vibrators in One! OhMiBod measures 7″ long (5 1/2″ insertable) by 1 1/8″ wide
and is molded from premium grade hypoallergenic white non-toxic, non-porous plastic
with chrome finishing…very iPod®esque. Its powerful motor, which softly purrs while
providing intense rhythmic vibrations, is powered by 2 AA batteries. A universal
headphone connector is integrated into the OhMiBod design. In addition to its good
looks, OhMiBod is adaptable. It can easily be converted into a manual mode vibrator by
putting on the special end cap it comes with. OhMiBod is two vibrators in one!
You can find out more on their site