U2's Achtung Baby was released 20 years ago this November. To celebrate the 20 year anniversary, or simply as an excuse to get some money from fans, the record label is re-releasing the album.
There are going to be several versions of the album available for fans from October that vary in price a LOT.
Here's the most expensive version that you can get – the Achtung Baby 20th Anniversary Über Deluxe Box Set: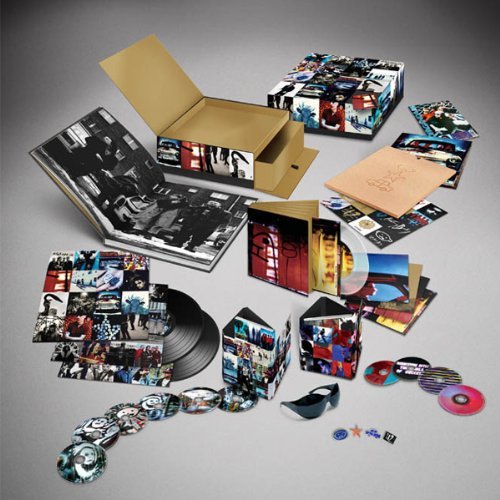 While you might be able to find it on special offer it's price tag is going to be high – Amazon is listing it at £329.99 – that's £330 or the thick end of €380! (Though you'll be able to get the shipping for free..)
What do you get? Well apart from a big dent in your bank account, you get:
six CDs including the original Achtung Baby album, the follow-up album, Zooropa, B-sides and re-workings of previously unheard material recorded during the Achtung Baby sessions; four DVDs including "From The Sky Down", Zoo TV, all the videos from Achtung Baby plus bonus material; five clear 7″ vinyl singles in their original sleeves; 16 art prints taken from the original album sleeve, an 84-page hardback book, a copy of Propaganda magazine, four badges, a sticker sheet, and a pair of Bono's trademark "The Fly" sunglasses.
Seemingly the sunglasses were made specially by the same company that Bono got his from 20 years ago.
If you have the money you can pre-order it here, though there's a few other versions available that might be more suited to those of us who like U2, but aren't completely addicted.