Cooking gadgets fascinate me. Some of them are very useful and innovative. Others are just plain dumb.
I'm not 100% sure which category this falls into: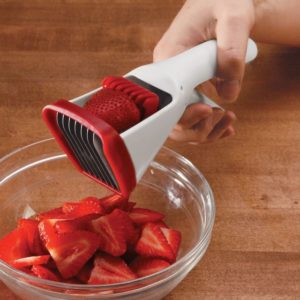 It's for slicing strawberries and other soft fruit.
I'm trying to think how likely I'd be to use this more than once or twice before the novelty wore off. I'd wonder how hard it is to clean it ..
Or is this an ingenious device?
From the description:
Slice strawberries in seconds with the Strawberry Slicester by Chef'n. With this hand-held strawberry slicer you can slice over a bowl, plate, salad and more! It's the perfect tool to use when making strawberry pies or dessert toppings. Easy and safe to use; no knife needed, simply press to slice. Features a thumb indent for comfort. Long lasting stainless steel blades stay sharp and do not retain tastes and odours.
Seemingly you can use it for mushrooms as well, though wouldn't a good knife do the same thing?
Want one? You can grab it here.