The 2016 US presidential campaign has been dominating the media on both sides of the Atlantic for months.
No matter which way you might lean politically it's probably fair to say that this election cycle has been particularly tough and divisive.
This t-shirt design from T-Shirt Hell sums it up nicely: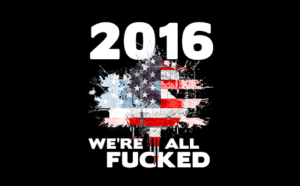 You can grab it here or choose from one of their other politics themed t-shirts. Some of them are hilarious, but others might be a little offensive for everyday wear.